The Pala Chief gem deposits were first located in May 1903 by John Giddens, Frank A. Salmon, Bernardo Hiriart and Pedro Peiletch. They established a claim and developed the mine between 1903 until about 1914, when commercial mining ceased due to a collapse in demand from China. While it has been claimed that kunzite was discovered here, in fact it was first found about year earlier on Hiriart Mountain, just one ridge to the east. However, the Pala Chief has been the source of some of best gem-quality kunzite found in the world, at least until the recent spectacular finds in the Oceanview Mine. The original workings were primarily on the surface where numerous pocket zones were exposed. There was some tunneling done, and at least one giant pocket was hit--the famed "Bridal Chamber."

After 1914, only minimal mining occurred on a sporadic basis. Collector Bob Bartsch mined the Chief for several months in the mid 1960's, finding triphane and kunzite, and Pala International mined there in the early 1970's with minor finds. The mine was owned by Bob Dawson from the 1980's through 2011, when it was sold to Oceanview Mines, LLC. Bob made several significant finds, including some spectacular tourmaline in matrix specimens. The mine is now being carefully evaluated and prospected for a planned expansion of the tunnels. Stay tuned for the next chapter in the history of the Pala Chief!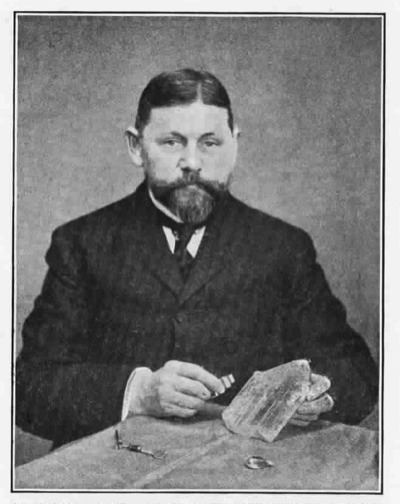 This is George Frederick Kunz, the namesake of kunzite. Here he is seen with a large kunzite crystal that was mined from the Pala Chief around 1903 or 1904. On the table in front of him is a cut kunzite. The crystal is now in the collection of Bill Larson. Photographer unknown.
This photo was taken sometime around 1903 and shows three of the original discoverers of the Pala Chief. They are working a pocket in this photo on the face of the pegmatite, excavating a pocket. From left to right they are: Frank A. Salmons, Bernardo Hiriart and Pedro Peiletch. Photographer unknown, possibly H. C. Gordon.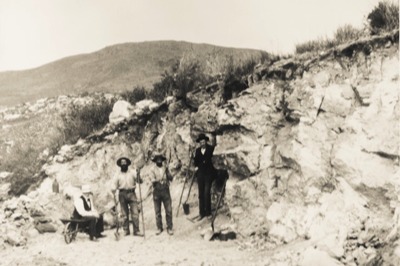 This photo is also from approximately 1903 or 1904 and shows the open pegmatite face in the area where the first kunzite was discovered. In order from left to right the individuals are: M. S. McLure, Bernardo Hiriart, Pedro Peiletch and Frank Salmons. Photo by H. C. Gordon.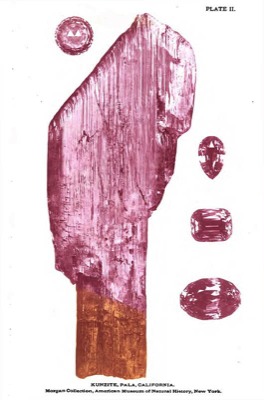 This color plate comes from the book "Gems, Jeweler's Materials and Ornamental Stones of California" by George Frederick Kunz (the namesake of kunzite). It was published in 1905 and is now in the public domain; you can find a scanned eBook copy on Google. It illustrated a large kunzite crystal from the Pala Chief Mine and a number of cut stones.